Uncategorized
Ministry Life
Most of you know that we (my family) are missionaries in the inner city. If you didn't, now you do!! My wonderful husband works with recovering addicts, and heads up...
Behind the Scenes ~ Where do I Begin?
This post was expanded into an eBook in the spring of 2013!  You can grab your copy FREE when you sign up for our newsletter!  Sign up here, or go...
Friend Makin Monday ~ Confessions
Confession Time... I stink. Right now. I NEED a shower. I had planned on doing school with Pac Man this summer after taking just a week off. Hmmmm it's been...
Friend Makin Monday ~ 10 Things I Love About Summer
For this week's, Friend Makin Monday (yes I realize I am posting this a day late---woops), we're sharing 10 things we love about summer.... Seeing my family from NC-we go...
Tot School ~ He Likes Crafts!!!!
~Krash is currently 36.5 months old~ Tot School was much different at our house this past week as I discovered Krash finally likes to do crafts and projects!!! We...
My Daily Docket…
After my Makin' Friends Monday post earlier today, Keri asked me to share my Daily Docket. As I mentioned earlier, I got this great idea from Simple Mom, I just...
Friend Makin' Monday ~ Little Tips for Life
I want to start participating in a few weekly memes that I have found that I really like. The first on this list is this great one, Friend Makin Monday....
Confession Time
It occurs to me every now and then that this blog makes me appear WAY better than I actually am in real life :). As I look back through photos...
Behind the Scenes ~ Transitioning from Tot School
Krash has recently turned 3, which means it is time to begin the slow transition from child-led Tot School to Mommy-led school. This is not an easy transition and one...
How Do I Do It?
I have gotten a few comments and emails lately, especially after Ladybug's birth, asking me how I do it all. By *it all* I believe they mean...homeschooling, blogging, maintaining my...
Behind the Scenes ~ Workboxes in Our House
It has been a week since we began using the Workboxes and I must be honest, this is probably the best thing we have added to our homeschooling life! I...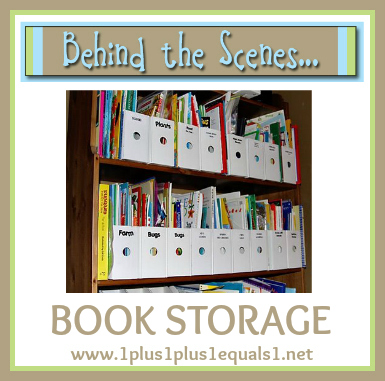 Behind the Scenes ~ Book Storage
I recently got asked how I store all of our children's books. This was a very simple answer so I thought I would put it in a Behind the Scenes...