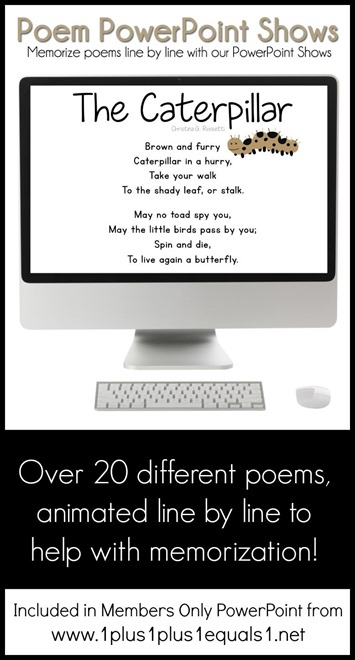 I am so excited about our new Poem PowerPoint Shows! I started creating these in preparation for my daughter using First Language Lessons for 1st grade this year.  I wanted a way to help her enjoy and memorize the poems this year in a fun and interactive way.
These new Poem PowerPoint shows are included in the Members Only PowerPoint section, which is a one time fee of $20. This private section, containing this PowerPoint show and many others, has just received a much needed makeover.  These new shows are a huge addition to this already packed private section!
The PP shows are animated, which makes screenshots a bit pointless. So, I made a little video walking you through how it looks on our iPad, it will look the same on a computer too. I just used our iPad for this video. You can see my son Krash reviewing the poems he memorized with Frist Language Lessons Level 1. I wish I would have thought to create these last year for him!  But at least he will have them to use this year for his new level!
All poems from First Language Lessons Levels 1-4 are included as PowerPoint shows!  My son will be using level 2 this year and my daughter will begin level 1.  The upper levels are done too for those of you who will be using FLL 3 or 4!
---
Looking for printables to review the poems from First Language Lessons?  My friend Jolanthe from Homeschool Creations has free poem printables!
---
Want to see what other shows we have in Members Only PowerPoint? There's more coming soon too, I have loads of ideas in my brain and some already started!

Already a member of Members Only PowerPoint?  Lost your login and password?  Just email me and give me your PayPal email address.  This is the way I can find your original purchase and give you your access info easily.