Tot Tray Ideas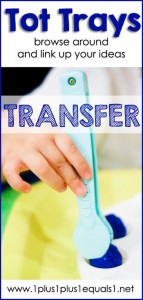 Tot Tray Ideas ~ Transferring
Welcome to our collection of Tot Tray™ ideas featuring TRANSFERRING ideas. What is transferring? It's  moving one object or a group of objects from one place to another. This can...
Tot Tray Ideas ~ The Ultimate Collection
I am so excited to launch a brand new series featuring Tot Tray™ ideas from me and from YOU!  Tot Trays are a simple twist on a very old Montessori...