We were late to jump on the Frozen train since my daughter didn't like it when she first saw it in the theater.  Then we got the DVD and it all changed. I was going to make an entire Frozen printables pack but decided to just make additions to the packs I have already seen out there. First I made some Q-Tip Printables. There may be more Frozen printables coming, but no guarantees! If there's a specific printable you have seen me make that you'd love with a Frozen theme, leave me a comment!
---
WHY use Q-Tip Painting Printables?
The big answer is fine motor skills! If you notice how we focus on not only the tiny dots, but also using small items in painting or adding to the dots. All of this works on hand-eye coordination and fine motor skills
The letter identification is a secondary bonus!
See ideas for using these here!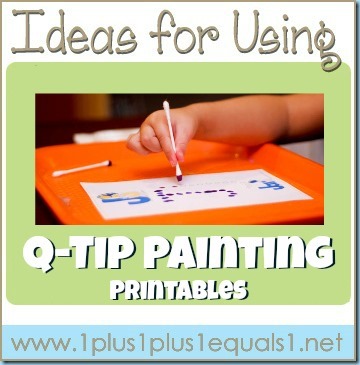 See our Frozen Pinterest Board here for more fun printables and ideas!
---
Looking for all of our Q-Tip Painting Printables? Click on the images to see the free printables for each theme shown below! I am always adding more, so be sure to subscribe to my blog so you don't miss new themes!