Many years ago my oldest son made a Bible Lapbook.  We used a variety of resources for it including printables I made and printables made by others.  I have had a long to-update list for years and have finally begun tackling the Bible section.  I am updating current printables, and adding more!
Today I have updated Books of the Bible Song printables for you.  The tunes we use come from this site, they have audio files you can listen to. We also have an old video of our boys singing the tune during calendar time here!
Here's the updated mini book.  I just changed the fonts and removed color.  We used this small mini book as a portion of our calendar time for years.  I laminated each of the pages, cut out and attached with metal rings.  You can see a peek here in this post!
We still have the old version here available to download too.  You can grab the new version on our new Bible printables webpage here.
I also added full page and half page printables for the songs to display or use in a notebook.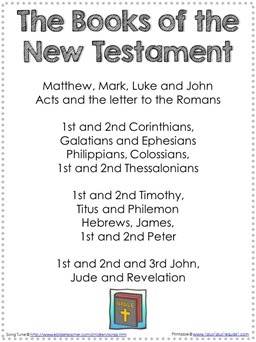 Download your free Books of the Bible Song printables here!