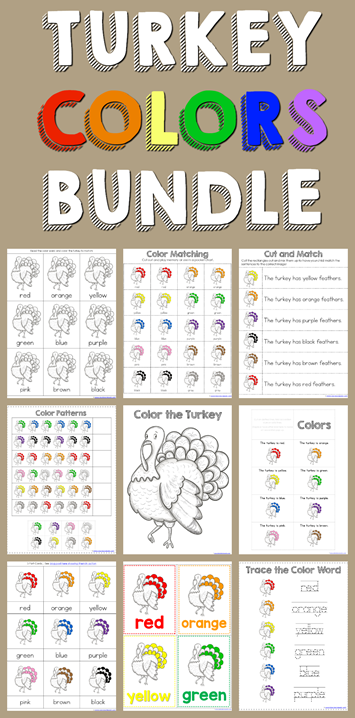 Gobble! Gobble! Have some fun with these adorable turkeys! This Turkey Colors Bundle is filled with fun activity for your tot, preschooler or Kindergartner.
Scroll to see a peek inside of the bundle, and a freebie at the end of the post!
Flashcards
Easy Reader

Leave the easy reader as-is, or have your child color more feather on the turkey to match!
Matching Cards

Have fun playing memory or simple matching the colors!
Clip the Color Word

Cut out the cards and have fun while working on fine motor skills with a clothespin.
Cut & Match

Cut the turkeys in half for a fun matching game.
3-Part Cards

Match words using 3-part cards.
Trace the Color Word

Practice tracing color words.
Cut & Match Sentences

Cut out the turkeys and sentences, mix them up and match them!
Graphing

See ideas for using Roll and Graph here!
Accordion Book

See all about accordion books here!
Patterns

Cut out the turkeys at the bottom and glue the correct turkey to complete each color pattern.
Color the Turkey

Two different options depending on the level of your child. For older kids, use the BW copy to practice reading color words. For younger children, use the colored words.

 
Turkey Coloring Page
Turkey Colors Bundle

Grab your Turkey Colors Bundle here in my shop!
Turkey Colors FREEBIE!

Download Turkey Colors Roll & Graph for FREE!
More Turkey Fun…