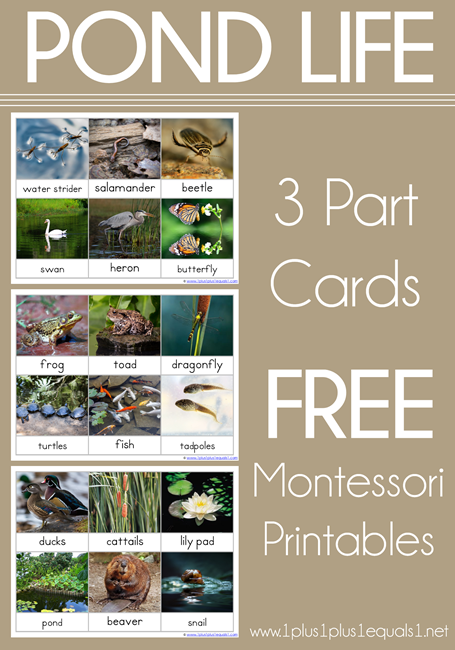 We have a new addition in our Montessori Printables collection! This is an updated set of Pond Life Nomenclature cards featuring photographs. If you are planning a pond life theme, these free printables will be a great addition.
Many of you incorporate Montessori methods into your homeschooling, as I did when my kids were younger. I hope you enjoy these new free printables!
This new pond life nomenclature card set contains 18 different pond animals and plants!  Here's a peek at the cards…
Unfamiliar with Nomenclature cards, also called 3-Part cards? 
Nomenclature cards are a Montessori based idea. The word Nomenclature comes from the Latin "nomenclatura" which means assigning of names to things. Nomenclature cards are also called "3 part cards" for obvious reasons!
Here's a couple of articles sharing more about the what, why, and how!
Grab some fun pond books and toys to go along with a fun unit featuring pond life!
Download your FREE Pond Life Nomenclature Cards here!
---
More POND LIFE fun…
See more Montessori ideas on our Pinterest board!
More Nomenclature Cards: