toddlers
Homeschooling Tots
Homeschooling Tots is something I write about a lot.  Early childhood education is a passion of mine and empowering parents to feel confident to explore early learning at home is...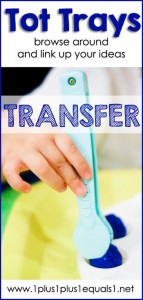 Tot Tray Ideas ~ Transferring
Welcome to our collection of Tot Tray™ ideas featuring TRANSFERRING ideas. What is transferring? It's  moving one object or a group of objects from one place to another. This can...
Tot Tray Ideas ~ The Ultimate Collection
I am so excited to launch a brand new series featuring Tot Tray™ ideas from me and from YOU!  Tot Trays are a simple twist on a very old Montessori...
Tot School Letter Gg
~Ladybug is currently 34.5 months old~ Here is her desk set up for letter G… The items in the pocket chart are all available here on the Animal ABCs webpage. ...