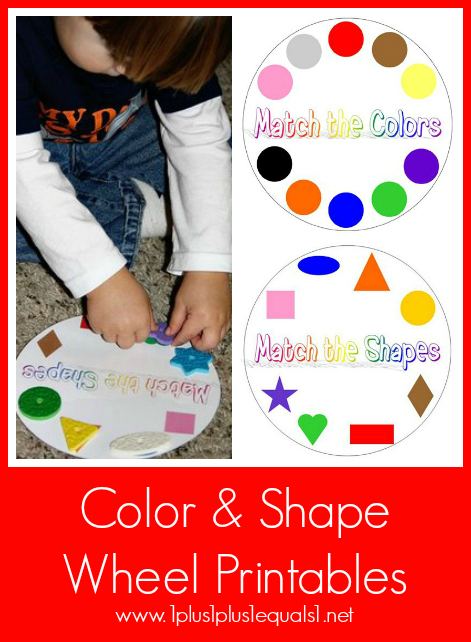 I was inspired to make these from the ideas I saw on Four Little Penguins, I also saw an adorable adaptation of that idea on Cheeky Monkey, where she used little wooden sticks and velcro for her son instead of the clothespins.
I decided to create Learning Wheels, and began with color matching…
and shape matching…
For the colors I started K today with different colored bottle tops to just place on the colors, I also plan to let him use colored pom poms, wooden sticks, and of course clothespins. BUT, before you go thinking K always uses his tools in the proper way, this is what he thought of my idea today…the purple bead (I didn't have a purple top) was used as a hammer to pound on the other tops and he wouldn't match them up on my lovely learning wheel :). That's OK though, we still yelled out the colors as he pounded!
He did well with the shapes and seemed to enjoy the challenge of this one. I used little foam shapes I had from
this set
…
What you will need:
The Learning Wheels, you can make your own or download mine here as a pdf file
colored objects to match up (wooden sticks, clothespins, pom poms, bottle tops, even pieces of construction paper…be creative!)
shapes to match up (I made sure the colors DID not match in order to get him to focus on the shape) Pull shapes from any other tool you have or make your own out of construction paper or cardstock
cardstock (to print on)
laminator (if you have one, or can get one-it's SOOO worth the $40, I use it all the time!)
I am working on more Learning Wheels too, I know this tool will grow with him as I add different leveled wheels. It is certainly a tool that can be used for tots and way beyond! I am also making gift sets of these, most likely including the clothespins for them. For older kids I make them for I may make a clothespin set with color/shape words on them too.