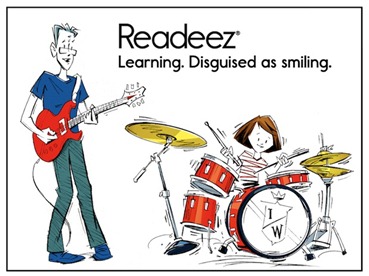 First things first…
I wondered the same thing when they contacted me!  So, let me share some basic points first so you know what I am sharing about!
Readeez are fun, entertaining videos that teach reading, math and more with superb original songs and a clever technique called SyllableSync.
Available as downloads (ideal for iPad/Computer/iPhone) or on DVD.  We personally use our iPad.
You can watch/download free samples, learn more, and purchase Readeez at their site.
They also make Bible Readeez, with a new DVD coming soon! 

---
What Did We Think?
Now that you have the general idea I can share my thoughts as a mom, homeschooler and teacher!  At first, I wasn't so sure, did I really need more songs and videos for my iPad?  I downloaded the samples sent to me for review and soon I was hooked.  I had Ladybug join me and she too was giggling and asking me to play them again!
After it was apparent how much we loved the samples, I emailed Michael from Readeez to let him know!  He sent me the rest of the videos to review and we are in love!
Ladybug's absolute favorite is Isabel's Alphabet, which you can watch here…
Her other favorite is probably The Duck Song, which is silly and funny…and very engaging for her!  She watches this one a lot!
Personally I LOVE the Nursery Rhyme Collection, which also includes a PDF file of printables for all of the songs included!
---
Want to Watch More Readeez?
Homeschooler Discount…

Get 20% off with the code: HOMESCHOOL, on all purchases!
---
I am grateful that Michael is also giving away the Readeez Mega Bundle: 3 DVDs and a CD, plus 5 downloadable products (including videos, MP3s and Ebooks) valued at $59.99 to one of my readers!
Use Rafflecopter to enter to in below, if you don't see the widget, be sure you are reading on the blog and not via RSS/email!
Giveaway is open worldwide and ends on July 2, 2012.