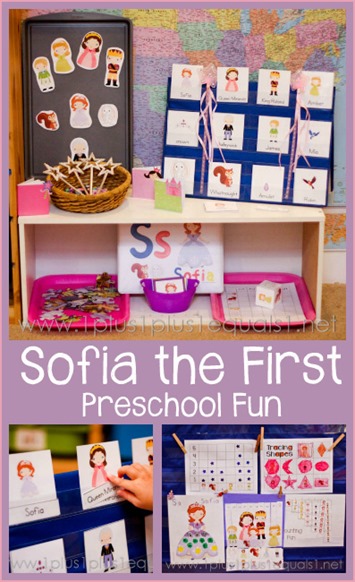 {disclaimer ~ affiliate links are used in this post}
Her Sofia the First shelf ~
Since she doesn't have any Sofia toys, I went with a sparkling princess style theme.  I grabbed some wands we had, and some glittery jewels and stars we had.  We also had a few princess theme mini notebooks too.
Once again, she went straight for the "what's different?" page!
She loves the memory game!
Cutting, counting and gluing!
She chose to put stickers on Sofia's dress dots!
She did NOT like the mini clothespins, and I had to help her way more than necessary.
So, we switched to our round wooden circles from our Spielgaben set!
3-Part matching cards in the mini pocket chart…
Tracing and coloring shapes…
Most of her completed work…
---
This unit was done alongside of Letter S!
See more theme based printable packs here!
See more home preschool fun over at Preschool Corner!