Our Raising Lil' Rock Stars Bible Verse Printables for the Letter M are available to download for free! M  is for MIGHTY! This set is based on Ephesians 6:10, "Finally, be strong in the Lord and in his mighty power."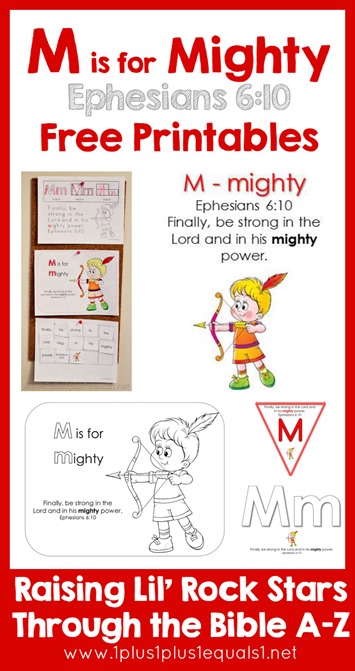 Here's a peek at the work she did at home.
The coloring page,  we worked together on this one.  Lots of discussion about the meaning of the verse occurs during our coloring time.
Color ~ Trace ~ Write the letter Mm…
Cut and Glue the Verse ~ this is a great word work activity for her, identifying individual words and sounds she knows as well as the Bible verse as a whole. She uses the printable that has the light gray matching words on it.
Here's the work Ladybug did at home…
And, here's Ladybug singing the verse for you!  The verse tune printables are only available in the bundle but you can hear the tune for Letter M in this video!  In case you don't catch it, the tune is London Bridge.
The free version is ONLY for home use.  If you will be using these printables in a church setting, private group, co-op, preschool or other group you will need to purchase the group bundle here.

Download your free Letter M printables here!

 

 Scroll down until you see the graphic for letter M and click on it to download the PDF file.

Download or printing trouble? See tips here!
These printables are from Raising Lil' Rock Stars, see more info here!
See other letters in action by clicking the graphics below!
Linking up with Preschool & K Community