We have been using Home Art Studio for a long time now.  You can see all of the projects I have blogged about here! Home Art Studio sent us curriculum to review years ago and has been a blog sponsor ever since.  We love working with them and sharing Home Art Studio with you!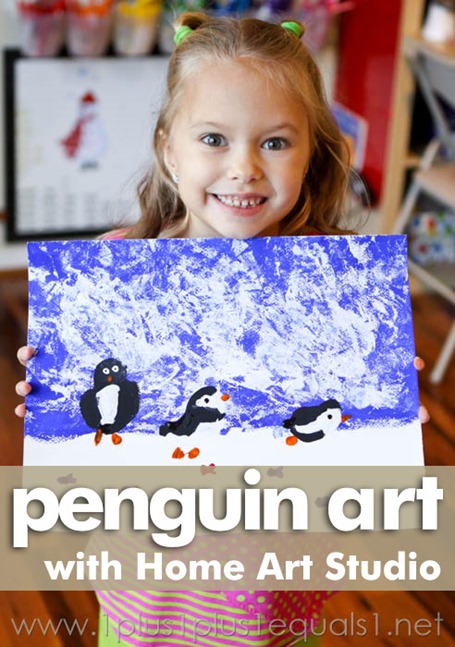 For our most recent project, I actually jumped up to our 3rd grade dvd and chose "Penguins On Ice" after looking at the instructions.  I thought she could handle it and she did!
I completely enjoyed this project with her, which is rare for me.  She is really embracing the idea that art is creative and that everyone's outcome is different.  Her attitude was fabulous and she smiled a lot. It hasn't always been this way so I celebrate!
Her favorite part was learning the texturing technique taught by Ms. Volin in the video.  She thought this was so fun!
She practiced drawing penguins, and then practiced painting them.  She really enjoyed perfecting the types of penguins she wanted on her final piece.  Finally, she decided she liked what she had done and got to work on the final project!
She LOVED it, and so do I!  She kept saying, "make sure you tell the art teacher I'm only in 1st grade and I did the 3rd grade project!"  She cracks me up!
Home Art Studio Information
Home Art Studio is an award winning DVD/ROM based art education program, taught by Lindsey Volin,  designed for homeschooling families. Every fun art project teaches students experience, but who want to ensure that their children receive a well-rounded arts education.
Here are some helpful direct links: