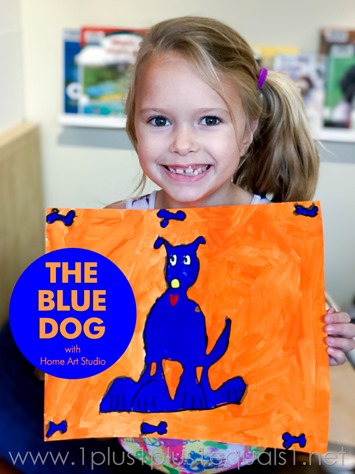 We have been using Home Art Studio for a long time now. You can see all of the projects I have blogged about here! Home Art Studio sent us curriculum to review years ago and I bought the 2nd Grade DVD to use with my daughter this year.
Recently she completed the Blue Dog project and loved it! First, she watched Ms. Volin read a story and then explain how to do the art project.
She likes to change things up a bit and make it her own, which I love. She often likes to do a test drawing before using her real paper which is what she is doing below.
Then, I set her up and let her work! She is pretty independent now and loves creating. The blue mat under her is something we use a lot!
Her finished project!
Home Art Studio Information
Home Art Studio is an award winning DVD/ROM based art education program, taught by Lindsey Volin, designed for homeschooling families. Every fun art project teaches students experience, but who want to ensure that their children receive a well-rounded arts education.
Here are some helpful direct links: