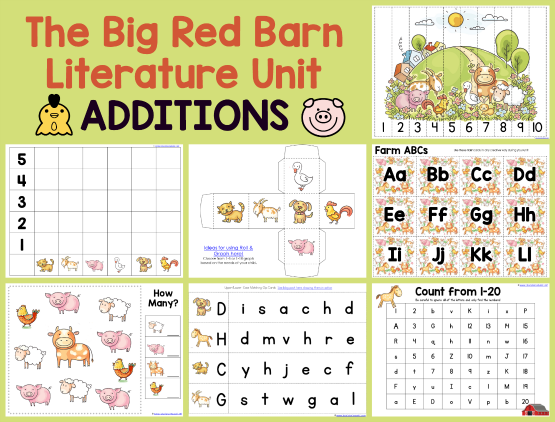 I created some new printables to go along with our original Big Red Barn Kindergarten Literature Unit. I added in a few activities that I specifically wanted to use with the kids I am teaching right now, who are at a Prek-K level. These additions meet my students at their needs, and I hope some of you can enjoy these too! I am adding them to the entire Kindergarten Literature Unit here, and you can grab them for free in this post!
My students are working on letter identification, which is why I added a set of flashcards and the clip the lowercase letter activity. We have a full set of clip the lowercase letter cards and more available for free here!
We are beginning our work with graphing and reviewing numbers, so I created a roll and graph game, a 1-10 puzzle, find and count, and a 1-20 maze.
Grab the entire farm theme Kindergarten Literature Unit here!

Download the addition for FREE here!
More FARM Fun
Looking for more FARM fun? See all of our farm theme activities here!