Tot Packs
Despicable Me Printable Pack
When I saw this adorable clipart, I couldn't resist.  Despicable Me is one of our all time favorite movies and since I hadn't seen any printable packs, I made one! ...
Pumpkin Printables ~ Part 2
Last year I made a Pumpkin Pack, mostly for Krash to use.  I will be using many of those printables this year also, with Ladybug.  She really enjoyed a few...
Tot School ~ Doc McStuffins
~ Ladybug is 41 Months Old ~ It was Doc McStuffins week at our house!  Most of our official school work shown below came from my Doc McStuffins Tot Pack…...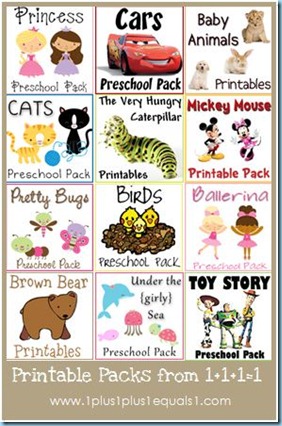 Preschool, Tot, and Kindergarten Printable Packs
I have MANY themed printable packs and I wanted to have a post that had links to all of them in one place to make it easier for you all...
Doc McStuffins Tot Pack
Ladybug loves Doc McStuffins, and has for awhile,  so I made her a Doc McStuffins Tot Pack! I created pages she would love, I hope many of your tots enjoy...
Mickey Mouse Printable Pack
Our Animal ABCs unit this week is M for Mouse, and there is one special mouse that Ladybug loves, so I made her a Mickey Mouse Printable Pack!  I created...
Octonauts Printables
  Ladybug will be 3 in April, let's just not even talk about that-how did she get this OLD?  She chose an Octonauts theme for her little party, so I...
Behind the Scenes – Storing Printables
It took me years to develop a method of storing our theme printables.   Many of these themes are used again, and a lot of work goes into prepping many of...
Brown Bear, Brown Bear Printables ~ Updated!
I am so excited to share a brand new updated Brown Bear Printable Pack with you!  All clipart has been updated thanks to the adorable set I purchased from KPM...
Spring Fun Tot Pack
Spring is in the air! Download our FREE printables featuring kites, flowers, baby animals, Easter, butterflies and more! Loads of fun for tots and preschoolers during springtime! See blog posts...
Love Tot Pack
Around our house, we celebrate Love the entire month of February, so we are just getting started!  This past week we have been doing tons of heart-themed Tot Tray activities...
Dinosaur Tot Pack
It's done! I have been working on this Tot Pack for a long time now, trying to make tons of fun stuff for Krash! We are in the middle of...