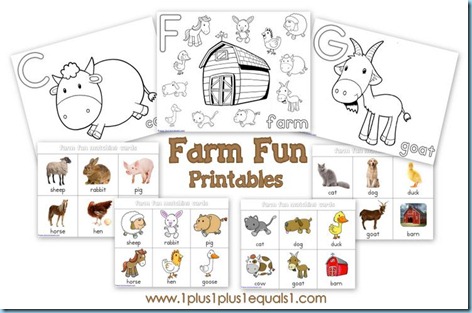 I had some cute farm clipart and just had to make something with it!  We will be doing a farm theme in the future, so I am sure there will be more to come!  For now, here is a set of coloring pages that could also be used as play dough mats.  They are featured at full size, but don't forget you can scale down PDFs to print multiple pages per sheet, so you could make them smaller!
Included also are matching cards!  You can match the cartoon animal to the real animal for a challenge, or just do straight matching for younger kids.
You can download this Farm Fun Printable Set for FREE over in my Teacher's Notebook Shop!
Are You Connected to 1+1+1=1?

You can subscribe via RSS, subscribe via email, follow on Twitter, or follow on Facebook!