Farm
Big Red Barn Farm Kindergarten Literature Unit
We have another new Kindergarten Literature Unit Study Printable Pack which is expanded to include more activities than our units in the past! Explore farm life with this new set...
On the Farm Nomenclature Cards ~ Montessori Printables
We have a new addition in our Montessori Printables collection! We have a new ON THE FARM Nomenclature set. This set contains 14 different farm animals as well as a...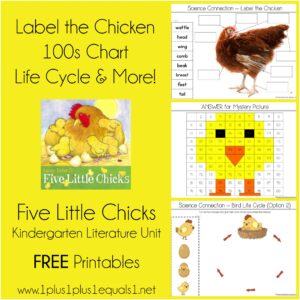 Five Little Chicks Kindergarten Literature Unit in Action
I am sad that this is one of our last Kindergarten Literature Units,  unless I decide to do more this summer.  I had a few more I wanted to create...
Farm Theme Printables & More
Farm Fun Coloring & Matching On the Farm Easy Reader Farm Life Match Up and Memory Farm Nomenclature Cards Color By Number Alphabet      Tot School Printables: G is for...