We haven't done an apple taste test in years. I skipped the whole apple theme when Krash was younger, and now that Ladybug is in Kindergarten I wanted to have apple fun again!  I created some apple taste test printables for my kids to use and you are welcome to them also!
I bought 7 different types of apples and invited some friends over since I knew we couldn't eat all of the apples!  Plus it's more fun with friends! I got the table all prepared before the friends arrived to make things run smoothly.  Even had time to snap a few pictures for you!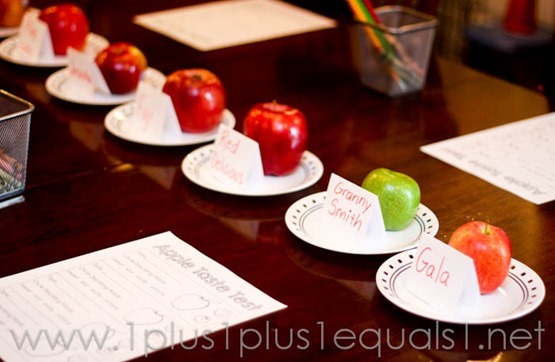 I cut each apple as we tasted to keep them from browning.  I used an apple cutter and walked around the table letting each child sample and then fill in their sheet.
My sweet mom is here so she took some photos for me while I worked!
The kids wrote in the name of the apple, circled a descriptive word, colored the apple to match, and chose a smile or sad face to represent if they liked it or not. Ladybug and her four year old friend both had some writing help.
In the end each child ate more of the apples they liked and then filled out the final poster to tell their favorite kind of apple!  You can see Ladybug's papers below!
Download you free Apple Taste Test Printables

here on our Apple Fun webpage
See more apple ideas on our Apple Theme Pinterest Board!