Ladies and gentlemen, I am thrilled to announce we are finally in LOVE with the library and have been successfully in love for about a year now.  It took me many years to actually fall in love. I actually avoided the library for years out of my fear of library fines. I think this was due to a few factors;
1 – having young kids who struggled with following "library book" rules,
2 – not really enjoying our neighborhood library where we used to live,
3 – not having a routine in place to keep up with checked out books.
Thankfully all of those issues are now solved and my little bookworm is very happy about that. I regret not getting my act together sooner with this for her, but am pleased that we finally have this routine in our life.
This little area in our homeschool room has solved number 3 for me.  It is a library book only area.  No other books are allowed to mix in and the library books are not allowed to leave this area with out permission.  At age 6, she is old enough to understand this and does really well.  We haven't had 1 fee since we moved here!
We get the boys books too, but she is my library partner and loves to go with me.  We have a routine and I know now that I need to allow plenty of time for her to sit and read many of the books she has chosen.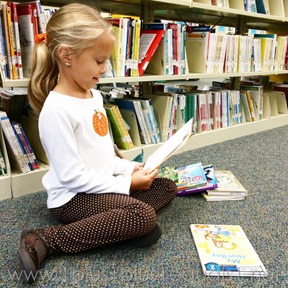 I have been taking photos of our very favorites before we return them and sharing on Instagram, we even have a hashtag to help you see them all at once #ladybugslibraryfavs. 
Here are some of our "favorites" photos. We have a huge home library so I can't justify buying more at this point, but I know many of you are still building your home library! So, if you want to see them on Amazon, click the photo to see those specific books!