Activity Packs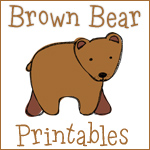 Brown Bear, Brown Bear ~ Tot Pack
This pack has been updated with new clipart and photographs! See the new files here! I finally finished it and this one I am SO excited about because it is...
The Very Hungry Caterpillar ~ Tot Pack
My pain is your gain!!!! That's my new motto during these last painful weeks of my pregnancy! I was laughing with my husband last night about it, thinking you all...
A New Twist on the Tot Book
As most of you know, we have a lot of Tot Books available for download and I still love making them. Unfortunately, my tot does not LOVE them as much...
Activity Pack ~ The Land Before Time
**Edited to Add: Here is the link to the cards in PDF form! I have been really sick, sorry it took me a few days to get them up! Both...