This pack has been updated with new clipart and photographs! See the new files here!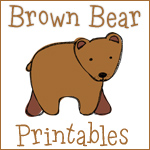 I finally finished it and this one I am SO excited about because it is perfect for Krash!!! I had so much fun making this set, and forgot how much I love this book! I hope you all enjoy it as much as I enjoyed making it!

One mini book is for coloring…
The other is for reading and identifying shapes…
I made a fold out alphabet (there's also one with lowercase in the download)…
A pocket with counting cards…
Size sequencing bears…
And, my favorite…the Heads and Tails pocket…
Believe it or not when I went looking for the book, I realized that we didn't own it! I guess i had always gotten it form the library. Well, I decided we needed our own copy, and instead of just getting this book, I decided on this great set…
It also has Polar Bear, Polar Bear, and Panda Bear, Panda Bear, which I know Krash will love also!!!