snow
Winter Theme Kindergarten No-Prep Printable Activity Pack
This winter-theme Kindergarten activity pack is perfect for busy homeschool parents who don't have time to cut tons of pieces out, laminate materials, or do a lot of prep work....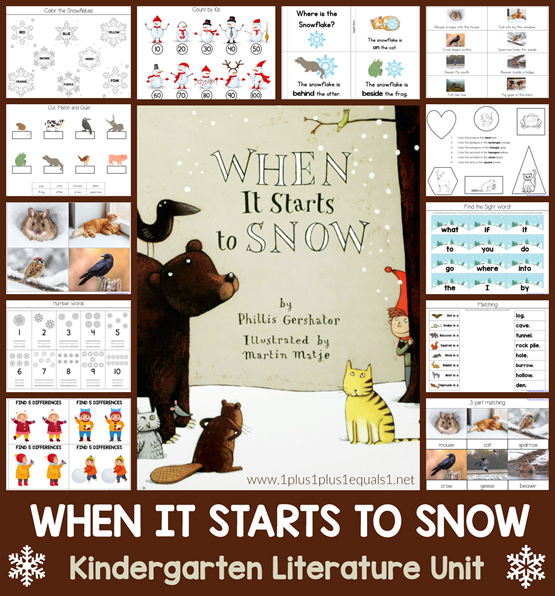 When It Starts to Snow Kindergarten Literature Unit
We have a another new seasonal Kindergarten Literature Unit Study Printable Pack which is expanded to include more activities than our units in the past! Welcome winter with this new...
Peek & Find Snowmen
We have a new Peek & Find featuring snowmen! Peek & Find is a great activity for for Tot Schoolers, Preschoolers, Kindergarteners and beyond! There are a few variations to...
Find the Differences ~ Winter Edition
Is it cold and snowy where you live? Looking for some fun and simple winter activities to do with your kids? We have a fun game for you today featuring a free worksheet to work on visual perception...
Winter Mazes for Kids
Today we are sharing a few fun Winter mazes for you to add to your winter theme collection. This set features a full color option or a blackline option. See...
Polar Animal Fun Pack
This new Polar Animal Fun Pack is a free printable set featuring several fun activities for your child! Enjoy a crossword puzzle, word search, shadow matching, and I Spy! More...
Winter Tracing Fun
We have a fun new Tracing Fun pack for you featuring winter fun! See more Tracing Fun sets here! Why Tracing Fun? Tracing is a great way to develop fine...
Snowy Fun Mega Bundle
I am excited to share our new Snowy Fun Mega Bundle with you! It is filled with over 40 different activities which are great for tots, preschoolers and Kindergarteners! You'll...
Snowman Coloring Pages
We have a brand new set of Snowman Coloring printables for you! These are great for adults who like to color as well as children. The idea behind "Just Color!"...
Snowy Fun Math Printables
We have a new set of Snowy Fun math printables for you! This new mini set features adorable winter animals! Use these fun winter printables to work on patterning, sorting,...
Winter Books, Crafts, and Printables
I just love seasonal books and still pull them out for my kids. Winter Printables and Ideas Do you have kids who like to color?  We have several...
Learning with Ladybug ~ age 4y, 6.5m
Welcome to our weekly preschool at home blog feature, Learning with Ladybug!  As you probably know, I scrapped our preschool plan and built a new one based around our current...