Can you find TEN differences in each picture? Some are pretty tricky! Have fun with this winter themed edition of FIND THE DIFFERENCES! Use your visual discrimination skills to find them all,print multiple copies and have a family race! Work in teams if you have a wide variety of ages!
Want to reuse these pages over and over again? Slip them into sheet protectors and use dry erase markers or crayons with them!
In this free printable set you'll find many fun winter themed pictures; snowmen, ornaments, stockings, candy canes and more!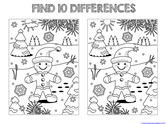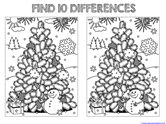 ---