Is it cold and snowy where you live? Looking for some fun and simple winter activities to do with your kids? We have a fun game for you today featuring a free worksheet to work on visual perception skills. This free resource will help your kids develop better visual skills by focusing on the images to find the differences! Find the difference WINTER edition is a great brain break from schoolwork and can give kids a boost of fun while also working on needed skills.
Find the Difference Winter Theme
Can you find TEN differences in each picture? Some are pretty tricky! Have fun with this winter themed edition of FIND THE DIFFERENCES! Use your visual discrimination skills to find them all,print multiple copies and have a family race! Work in teams if you have a wide variety of ages!
Want to reuse these pages over and over again? Slip them into sheet protectors and use dry erase markers or crayons with them!
In this free printable set you'll find many fun winter themed pictures; snowmen, ornaments, stockings, candy canes and more!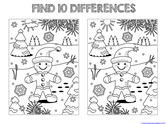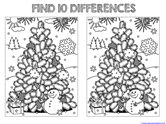 WINTER GAMES, BOOKS, & ACTIVITIES
WINTER PRINTABLES FROM OUR SHOP:
Kindergarten Literature Unit featuring the book When it Starts to Snow, a fun book filled with animals. A peek into hibernation, adaptation, and migration which you could easily expand on during this unit!
Snowy Fun Mega Bundle featuring many winter activities for Tot School, Preschool, & Kindergarten
January No-Prep Kindergarten Activity Pack – a no-prep version of many of these activities purposely created for busy teachers, homeschoolers, caregivers, and parents who want fun seasonal activities without the time-consuming prep work.
Download Find the differences winter edition Here!
READ NEXT:
---