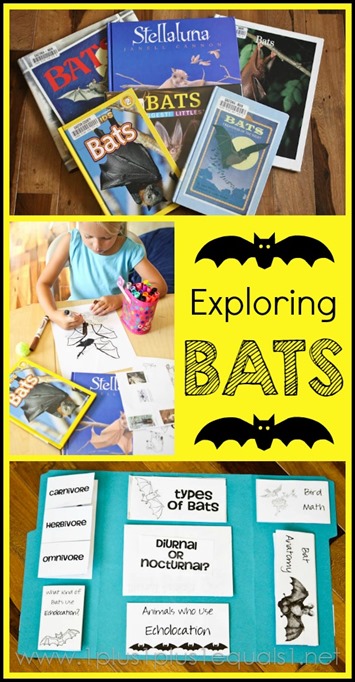 This summer we are trying out a few unit study options for Ladybug and Lapbooks were something I wanted to try with her.  I let her choose her first topic, and although it is not what I would have chosen, she enjoyed it because it is what SHE chose ~ BATS!
We got our printables from:
Here is a peek at her completed lapbook…
She loved learning to draw the bat.  She made a few small ones, and then made the big one that she ended up choosing for the back of her lapbook.
Coloring is still a favorite, this also ended up on the back of her lapbook.
Learning about echolocation…
Diurnal and nocturnal animals…
Carnivore, herbivore and omnivore animal sorting…
Below she was painting the bat printable craft, she still loves these!
These are the books we used for our study, all but Stellaluna came from the library.  The National Geographic Kids Bats one is the one we used the most.
After completing this study she told me she didn't like the Lapbook as much as I thought she did.  I was a bit disappointed as I thought I might have found her sweet spot!  We are going to try a notebook method with some of the Lapbook printables for her next chosen theme – OWLS!  Stay tuned to see how we do that one and if she likes it!