Instead of waiting until after the homeschool year is over, I wanted to share a few posts featuring new-to-us curriculum choices. We have not used this curriculum yet, but after much research, I have decided to give it a try. Stick around and see if we end up liking it!
(disclaimer – affiliate links are used in this post, but this is NOT a sponsored post)
I have decided to use Compass Classroom American History for my rising 8th-grade daughter. It may take 1-2 years for us to complete this, we are in no rush since normally I would begin this in 9th grade. I have previewed the first four weeks and like what I saw. She wants to be more independent so a video-based curriculum seems like a great option for her.
Info from the publisher:
American History is Year 1 in a series of one-year homeschool history curricula. American History consists of:
130 videos (5 lectures per lesson, ~10-15 min each, 25 hours total )
284-page Student Reader based on original sources
Teacher's Guide with Scope & Sequence
Dates covered: 1500s to 1910
Master storyteller Dave Raymond delivers a dynamic history of the United States in this popular introduction to his four-year history series. He applies a Christian worldview to the characters, events, theology, literature, art, and religious beliefs of the nation. His American history homeschool curriculum has transformed thousands of Middle School and High School students. Yours can be next.
---
Why I Chose This Curriculum:
We have used Notgrass History in the past and I have no problems with it. Compass Classroom kindly offered access to their library of courses and I spent time browsing around. A few key components appealed to me: video-based, Christian-focused, & online dashboard.
My daughter has asked to be more independent so a video-based curriculum is a great option. Reading hours and hours of a history textbook isn't always appealing to students so I am hoping this works for her as well as I think it will. The online dashboard that allows her to keep up with her videos and reading is so helpful and will aid in her independence while also allowing me to stay involved easily.
During these formative years, the Christian aspect is very important to our family. I love the way American history was presented in the first 4 weeks that I have watched so far.
They have free trial lessons if you want to check those out here.
You can also take a look at their membership area with their 2 week free trial.
---
Lesson Plans
They provide lesson plans, but I have a format I use so I create an at-a-glance page for each subject every year. You are welcome to download and use these also. There is a cover sheet for a binder as well. I like to have a simple checklist like this for each subject. My kids have a copy and I keep a copy for myself. Each week I check lessons off so I can see where we are at-a-glance.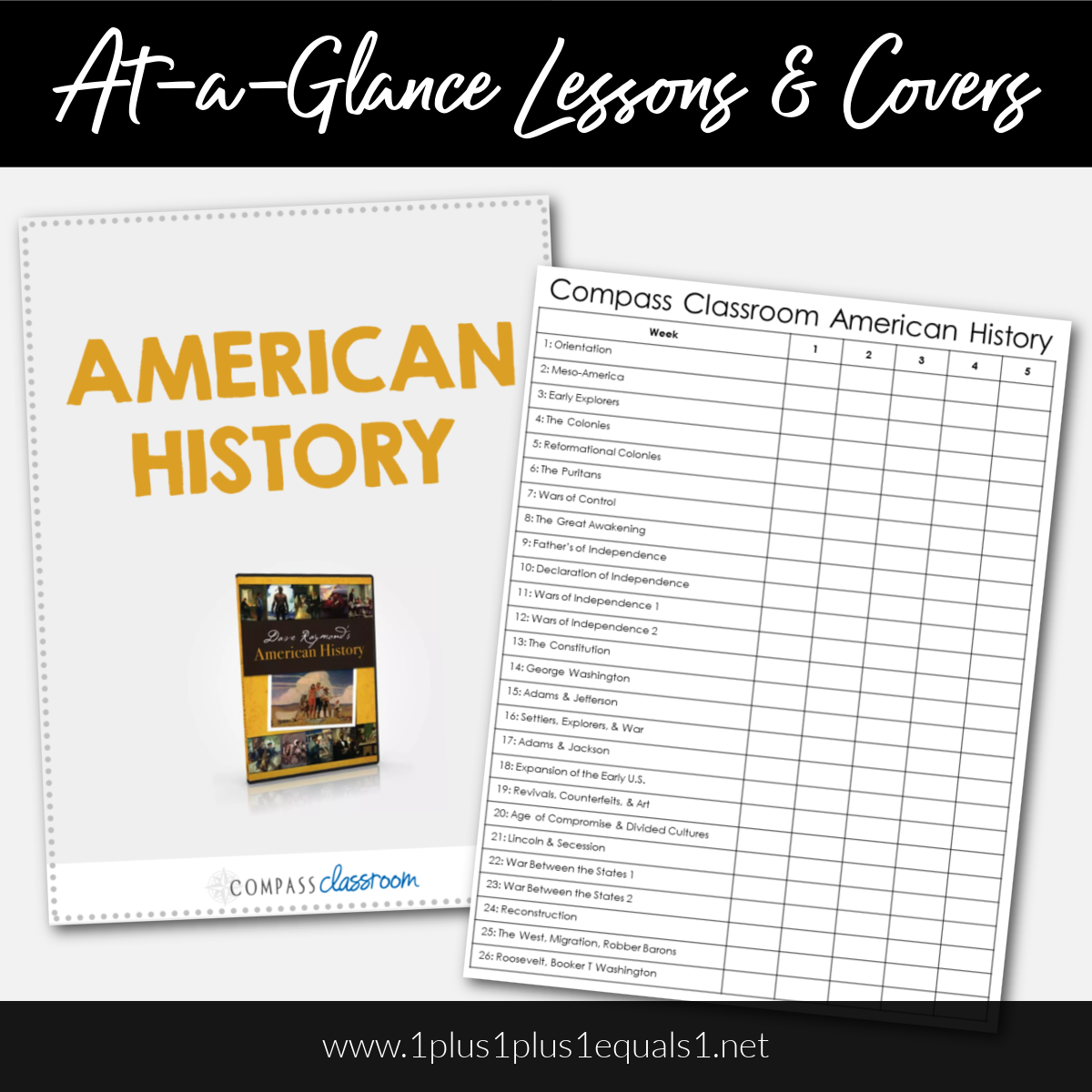 ---
History Printables
One of the projects in this course is a portfolio. I don't want her searching online for images so I decided to create a simple way for her to choose images/events for her portfolio. Stay tuned for printables coming soon! Subscribe here so you don't miss any!
---