Preschool Packs
Littlest Pet Shop Printables
Ladybug is a BIG Littlest Pet Shop fan and thanks to older cousins, she has a ton of pets!  Hand me downs are a fabulous thing!  I hope these free...
Lalaloopsy Printables
I have been asked a LOT if I would make Lalaloopsy printables and I have never done it because Ladybug showed no interest.  Recently that all changed.  I don't even...
Jack and the Beanstalk Printables
Sometimes we have a theme to go along with our RRSP letter of the week, sometimes not.  Ladybug really enjoys a special theme, and I didn't have one preplanned for...
Girls Gymnastics Printables
Many of you know that my boys joined a gymnastics team this past fall.  They competed this season and LOVED it!  Ladybug also takes a gymnastics class once a week...
Fairy Printable Pack
When I saw this adorable spring fairy clipart, I just knew we had to have a FAIRY week when we did letter F!  I got busy quickly since we were...
My Little Pony Printables
It's been a long time coming, but I finally have the My Little Pony printables done!  I could never find clipart I really liked, so I had to make my...
Top Ten Posts from 2012
Seeing what readers and visitors enjoy is always interesting, I love seeing what you enjoy.  It has been a fun year of blogging, thanks for all of you who are...
Pumpkin Printables ~ Part 2
Last year I made a Pumpkin Pack, mostly for Krash to use.  I will be using many of those printables this year also, with Ladybug.  She really enjoyed a few...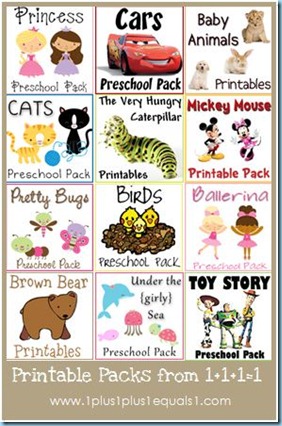 Preschool, Tot, and Kindergarten Printable Packs
I have MANY themed printable packs and I wanted to have a post that had links to all of them in one place to make it easier for you all...