Blog
Duck Labook Resources
I got the Duck Lapbook resources up on the site in case anyone wants to use them!! I made all of the templates myself, they are all linked up in...
A New Twist on the Tot Book
As most of you know, we have a lot of Tot Books available for download and I still love making them. Unfortunately, my tot does not LOVE them as much...
Tot School ~ Sick Week
~Krash is currently 34 months old~Not much Tot-Schooling in our house this past week..we got hit hard with the sickies! We watched tons of movies, read lots of books, and...
New Tot Books!
I completed 2 new Tot Books and have them up and ready for download on the Tot Books site! I haven't had a chance to get photos of them yet,...
Behind the Scenes ~ Saving $$ on Supplies
Not sure if this post will be of help to any of you, but I thought it might be so I decided to write it up. My thoughts were that...
Manatee Lapbook
Pac-Man recently finished his final 1st grade lapbook, all about Manatees! I personally was thrilled with his choice as manatees were my favorite animal as a child and teen, I...
Tot School ~ 1/2 a week
~Krash is currently 33 months old~It was a short week for us. It seems SO many of us (online friends) are battling illness right now-it stinks! Pac Man got it...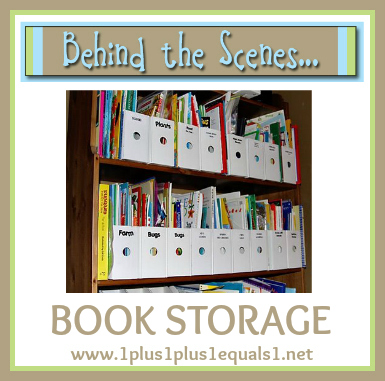 Behind the Scenes ~ Book Storage
I recently got asked how I store all of our children's books. This was a very simple answer so I thought I would put it in a Behind the Scenes...
Activity Pack ~ The Land Before Time
**Edited to Add: Here is the link to the cards in PDF form! I have been really sick, sorry it took me a few days to get them up! Both...
In the Works ~ Duck Lapbook
We began our lapbook all about DUCKS today! Pac Man (almost 7 now) loves ducks, especially ducklings, and chose this as his next lapbok. I could not find a complete...
i heart faces ~ Week 7 b&w…
This is my son "Krash", outside playing in the snow last month...(tech info: f 4.5/500, Canon 40D, Canon 28-105mm lens, ISO 500) Visit i heart faces to see more great...
Tot School ~ Back in the Schoolroom!!!
~Krash is currently 33 months old~For my regular readers, you will understand the title of this Tot School post, as you may remember we shut down our actual schoolroom to...