Blog
Home Art Studio ~ Lesson 4
We are reviewing a fabulous home art curriculum, Home Art Studio! We are using the third grade level, so Pac and Krash can participate together. I am blogging through our...
Doc McStuffins Sensory & Imagination Bin
In honor of our Doc McStuffins week for Tot School, I made Ladybug a Doc McStuffins Sensory and Imagination Bin!  Ladybug is a big Doc fan and she loves having...
All Homeschool Printables A-Z
Have you ever spent too much time browsing the internet looking for homeschool printables? Time is valuable and this post is meant to help you save time! Below you will...
Learning Resources Geometric Shapes
We have a fun giveaway for you today, for Real World Folding Geometric Shapes  from Learning Resources! There are 8 shapes included ~ cube, cylinder, hexagonal prism, rectangular prism,  triangular...
Tot School ~ Letter U
~ Ladybug is 41 Months Old ~ Totally forgot to take a picture of her desk for letter U, it wasn't too fancy since I don't have any umbrella birds...
Weekly Wrap-up ~ A Short Week
We got back from our vacation a day late, and lost another day of school this week to due a church event, so our Weekly Wrap-up is a but on...
Kids Helping Kids
Do you ever just bubble over with joy when you know a child who is working to make a difference for Jesus in this world?  Don't you want to do...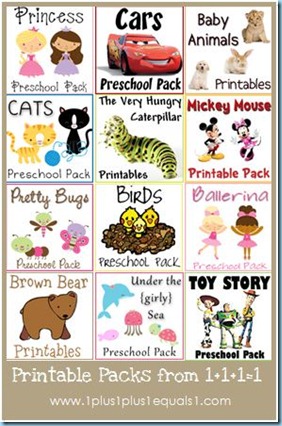 Preschool, Tot, and Kindergarten Printable Packs
I have MANY themed printable packs and I wanted to have a post that had links to all of them in one place to make it easier for you all...
Tot School ~ At the Beach
~Ladybug is currently 40.5 months old~ Ladybug spent her past week at the beach!  You can see our photos here on Instagram!  For the first time ever, I only had...