Kindergarten
Fall Theme Kindergarten Literature Unit
We have a brand new seasonal Kindergarten Literature Unit Study Printable Pack which is expanded to include more activities than our units in the past! Celebrate fall with this new...
Pond Life Kindergarten Literature Unit Printables
It has been years since I have released a new Kindergarten Literature Unit Study Printable Pack but finally, we have a new one! I based this new set off of...
Free Paw Patrol Kindergarten Printables
It has been a long time since I have released a new set of Kindergarten Printables! I have been asked MANY times for Paw Patrol and today is the day!...
Create Your Own Alphabet Posters
Involving young children in the early years is one of my favorite things. When decorating a classroom, teachers often use cute pre-made letter posters to showcase the alphabet. What if...
Homeschooling Kindergarten
Homeschooling a Kindergartner? It's one of my very favorite years of homeschooling! As a former public school Kindergarten teacher, it is most certainly a passion of mine and I am...
New Kindergarten Math Interactive Notebook
Sometimes a friend of mine creates a product I wish I had created! I have always wanted to make a math focused curriculum for Kindergarten and now I don't have...
Kindergarten Literature Units ~ Free Printables!
Are you looking for Homeschool Kindergarten curriculum? One of my favorite parts about our Kindergarten year with Ladybug was our Kindergarten Literature Units. We used 9 different units, all created...
Kindergarten Homeschool Curriculum Choices ~ Year-End Review
The homeschool curriculum choices blog posts are great, but what I really want to know is what families thought AFTER they used the curriculum they chose!  I will be sharing...
You Can Read Sight Words Year End Review
We had another excellent experience with You Can Read Sight Words this past homeschool year!  I created this program for my son and used it with him a few years...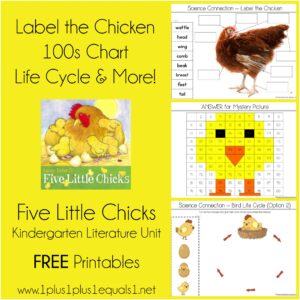 Five Little Chicks Kindergarten Literature Unit in Action
I am sad that this is one of our last Kindergarten Literature Units,  unless I decide to do more this summer.  I had a few more I wanted to create...
Try-It Sheet and Basic Writing Checklist for Young Writers
I have been busy creating many writing tools for my daughter, and sharing them with you!  I have been using a Try-It sheet with all three of my kids...
Choose Your Own Alphabet Chart Printable
Are you looking for a free printable alphabet chart for your preschool or Kindergarten student who is learning proper letter formation? Below you will find several printable alphabet charts to...