Recently I shared about our choice to use American History from Compass Classroom. One of the projects is a history portfolio, and I have created some free homeschool history printables to go along with this project! In this post, I will show you how we are using these history printables and how you can download them for free.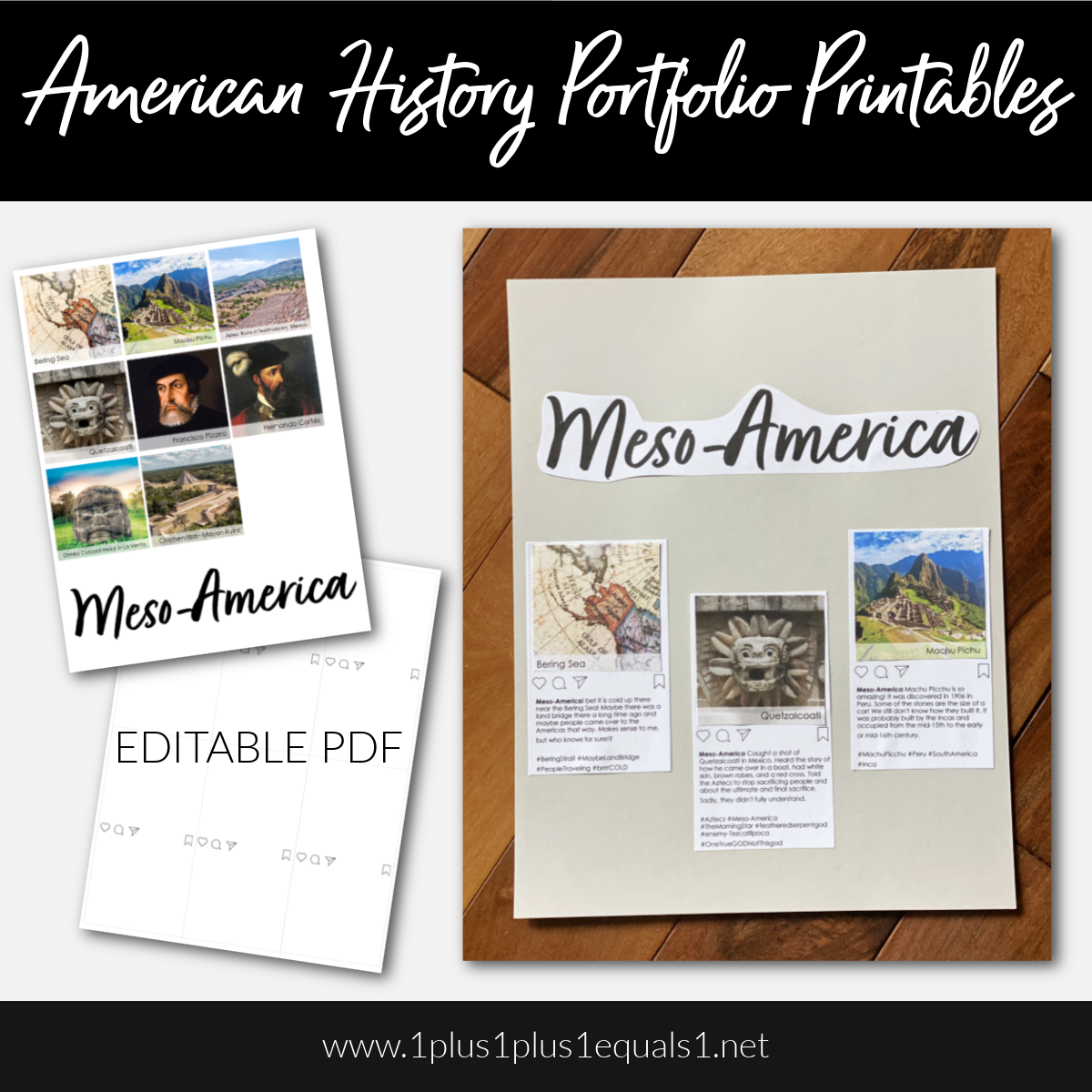 ---
Learn more ABOUT Compass Classroom American History…
I have a post sharing why we chose this history curriculum and also a free at-a-glance lesson printable for those of you who are using it also! Click here to see it!
---
Free Homeschool History Printables
I don't want my daughter to search online for images to print out, so I selected a minimum of 6 images from each history unit and created a printable for her to choose from for her portfolio. Below you can see our example for the Meso-America unit. Even if you aren't using this exact curriculum, these images could be used in many different ways for other US history curricula! I will be sharing how we are using them, but be creative and use them however fits for your homeschool.
---
Student Choice
For each unit, I am providing at least 6 different images and she will choose a minimum of three images to focus on based on what she was most interested in. As we all know, there's just no way a student can remember every historical detail taught in a history course, so I love the idea of letting a student's interest guide the choices for the portfolio. Hopefully, this leads to better memory of the people/events in the long run! Here is the printable page with images that she can choose from:
---
Instagram Style
I created an Instagram-style background for students to type information into, but this is totally optional! Each unit download contains a blank EDITABLE PDF that your student can use if desired.
---
Below you can see a finished sample, using an Instagram style description and hashtags, to make the facts a bit more fun for kids.
---
This is a wonderful method for a child who doesn't want to draw or write a lot but prefers typing. Although my daughter is VERY artistic, she doesn't want to be artistic for subjects like this. She definitely wants to cut out images, type something, and glue them in her portfolio rather than drawing things. I also don't require tests so this is a great way to have a discussion each week about the topics she chose for her portfolio.
---
Download Available Units Below…
Be sure to bookmark this post and come back for additional units. Also, you can subscribe to my blog posts and I will share when a new unit is available!
---
---
DOWNLOAD FREE HISTORY CARDS BELOW
Cards for weeks 1-17 are available here, the rest will be coming this summer (2023)!
---
See more homeschool curriculum choices…